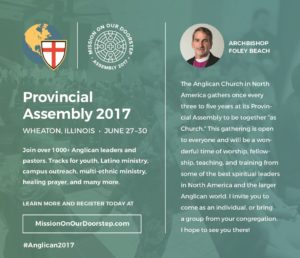 The 2017 Anglican Church in North America Provincial Assembly, with the theme of Mission On Our Doorstep, is an opportunity for everyone across the continent to gather and be united "as church". As part of the Assembly, there will be many different workshops, networking events, and sub-conferences. AMMiC will be leading a sub-conference on Asian and Multicultural Ministries. The presentation team, led by Bishop Stephen Leung, will share the experience of ministering to Asian immigrants in North America.
"After this I looked, and behold, a great multitude that no one could number, from every nation, from all tribes and peoples and languages, standing before the throne and before the Lamb, clothed in white robes, with palm branches in their hands, and crying out with a loud voice, 'Salvation belongs to our God who sits on the throne, and to the Lamb!'" (Rev.7:9-10 ESV)
In this day and age, with so many nations becoming our next door neighbours, the vision revealed to the Apostle John at Patmos has become an imminent reality. How can the Anglican Church in North America grow strong multi-ethnic ministries that are engaging and relevant to immigrants and their families? What examples are there to sparkle our imagination and creativity in ministry?
The AMMiC sub-conference will have four sessions:
A Vision and Theology of Ministry in a Multi-ethnic Context
Bishop Michael Nazir-Ali will be speaking on the vision and theology of ethnic ministry. Bishop Stephen and The Rev. Canon William Beasley (Greenhouse Regional Church Movement) will provide responses to the talk.
Hospitality: The Hallmark of A Welcoming Christian Community
Leaders: The Rev. Anson Ann, Anglican Network Church of the Good Shepherd, Vancouver, BC; The Rev. Joshua Wu (Drake), Eucharist Church, San Francisco; Nona Leung, AMMiCRegardless of culture, people yearn for a sense of belonging and community. The Scriptures reveal that our Triune God is a hospitable God in and through his redeemed community. How do we express God's hospitality to immigrant families, international students, seekers and unchurched friends through serving and sharing? What challenges are there to the Christian community in practising hospitality?
Bridging the Generations: The Need to Nurture Children and Equip Leaders in a Cross-cultural Context
Leaders: The Rev. Allan Tan, Anglican Network Church of the Good Shepherd, Vancouver, BC; Dr. Valerie Yiu, AMMiC; Alvin Ng, AMMiC

This workshop exposes the generational and cultural gaps in our communities. Our presenters have ministered within the diverse context of Vancouver, Canada, through Christian communities that have engaged families: from children, youths, adolescents, and parents. Specific cross-cultural and cross-generational challenges will be discussed as the first generation and the next generation seeks to journey together.


New Eden: An Outreach Ministry through Creation Care to Multi-ethnic Communities
Leaders: Ken & The Rev. Shihoko Warren, Church of All Nations, Vancouver, BC

The Church of All Nations, a Japanese/multicultural congregation, launched the New Eden farm ministry in response to the environmental catastrophe resulting from the 2011 Fukushima nuclear disaster. In the past five years, the New Eden ministry has advocated for creation care, and has been able to reach multi-ethnic immigrants, refugees, and the needy in local communities with God's good news. "We have come to see that mission is not merely an activity of the church. Rather, mission is the result of God's initiative, rooted in God's purposes to restore and heal creation." (Darrell Guder)
It is not to late to register for the Assembly. For more detail or to register for the Assembly, go to www.MissionOnOurDoorstep.com. The last day to register is June 15, 2017.
This post will be updated as more details are available.