President
The Right Rev. Stephen Leung
Suffragan Bishop, Asian & Multicultural Ministries
Anglican Network in Canada
Stephen was consecrated a bishop in the Church of God on 13 November 2009 at the Anglican Network in Canada (ANiC) Synod in St. Catharines, Ontario. He is also rector of ANiC's Good Shepherd parish in Vancouver and responsible for multicultural ministries within ANiC.
After graduating from Wycliffe, Stephen was ordained in Hong Kong in 1984 where he served as a curate for two years. He considers it a miracle that God opened the door for him to train in Canada. Stephen then began a 5 1/2 year post in Macao, the gambling haven. In 1990, he moved to Vancouver to serve at Good Shepherd.
As part of his mandate for Asian and multicultural ministries, Bishop Stephen has
been forging close working relationship with Anglican Provinces, Primates and
leaders in Asia.  In June 2011, he and his wife Nona led a short-term missions team
ministering to the needy in Bangkok, as well as among displaced people in Thailand
border – a ministry undertaken in partnership with the Diocese of Singapore and the
Deanery of Thailand.
Stephen and his wife, Nona, have two daughters. He is an avid badminton player and enjoys camping, fishing and hiking. He and his family have enjoyed exploring North America – from Alaska to the Grand Canyon – on their annual family camping vacations.
Directors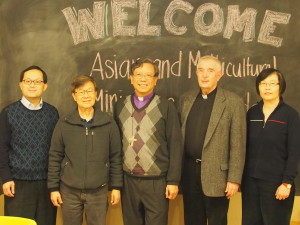 The Rt. Rev. Stephen Leung
Suffragan Bishop (Asian & Multicultural Ministries), Anglican Network in Canada
Rector, Anglican Network Church of the Good Shepherd, Anglican Network in Canada

The Very Rev. Dr. Archibald Pell
Dean (Multicultural Ministries), Anglican Network in Canada
Examining Chaplain for British Columbia, Anglican Network in Canada
Honorary Priest Assistant, Anglican Network Church of the Good Shepherd Vancouver BC
Examining Chaplain, Anglican Network in Canada
Instructor, Anglican Studies Program, Regent College, Vancouver BC
Chaplain, Royal United Services Institute, Vancouver BC
Regimental Major, 15th Field Regiment, RCA
Mr. Peter Pang
Retiree
Former High School Principal, Company Executive, Businessman
Former Diocesan Secretary (Sabah, Malaysia), Former Secretary of Sabah Interior Mission
Miss Annie Tang
Treasurer of AMMiC
Accounting and Systems Assistant
Dr. Sheung Kai Yung
Systems Engineers
AMMiC Council Members 2015
The Rt. Rev. Charles Masters, Diocesan Bishop, Anglican Network in Canada

The Rt. Rev. Stephen Leung, President

Mr. Peter Pang, Director
Miss Annie Tang, Director
Dr. Sheung Kai Yung, Director
The Rev. Anson Ann, Associate Priest, Good Shepherd Vancouver
The Rev. Timothy Fong, Rector, St. Matthias & St. Luke
The Rev. Paul Leung, Assistant Priest, Good Shepherd Richmond
The Rev. Emmanuel Sadarak

The Rev. Shihoko Warren, Priest-in-charge, Church of All Nations (Japanese)

Ms Ruth Lin, Lay Representative
Children's Ministry Director
Dr. Valerie Yiu
Valerie has been serving in the area of Christian Education and children's ministry for over 25 years at various churches in Metro-Vancouver. Upon graduation with a Master of Religious Education (MRE) from Canadian Theological Seminary in Regina, Saskatchewan, Valerie interned at Child Evangelism Fellowship in Salem, Oregon. She has also been trained in the area of Early Childhood Education and Special Needs. Later on, the Lord called her to begin serving as Christian Education Director and Children's Pastor at various local churches. Valerie graduate from Carey Theological College with a Doctor of Ministry receiving the Elizabeth and Roy Bell Prize in Pastoral Care on her research thesis, "How Churches Can Support Children with Autism Spectrum Disorder and Their Families".As the Children Ministry Director at AMMiC, her role and vision is to equip, train and empower volunteers in churches to minister to children; at the same time, to support and strengthen parents, so they may become partners with churches to raise their children according to Scriptural principles. It is Valerie's dream and hope that each AMMiC church plant and parish may have its own sustainable children's and family ministries.

Jesus said, "Let the little children come to me, and do not hinder them, for the kingdom of heaven belongs to such as these." ~Matthew 19:14.
Staff
Mrs. Nona Leung, Bishop's Assistant (part time)
Mr. Alvin Ng, Ministry Coordinator & Webmaster (part time)