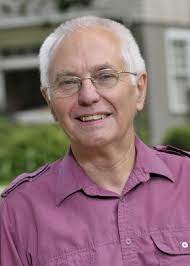 The Rev. Dr. John Goldinay will deliver a free public lecture entitled "Praise, Protest, and Poetry: How the Psalms Can Give Substance to Christian Worship" on May 2 (Fri) at Good Shepherd Vancouver, BC.  This event is co-sponsored by AMMiC and Centre for Worship Studies, Carey Institute. 
On May 3(Sat), he will run two seminars: (1) The Psalms' Concern for Justice, and (2) How the Psalms Urge Us to Pray for Justice.  Since space is limited, to avoid disappointment, please register early with the Centre of http://www.carey-edu.ca/eventregistration/.
The Rev. Dr. John Goldingay formerly taught in a Church of England seminary, then became an Old Testament professor at Fuller Theological Seminary in Pasadena, California, in 1997.  He is the author of "The Old Testament for Everyone" commentaries and other books. Kathleen Scott Goldingay trained as an architect and managed the building of the Seattle Art Museum.  She then studied creative writing at UCLA and studied theology at Fuller to inform her writing.  Both having lost their partners, John and Kathleen met at Fuller in 2009 and married later that year.